The popular indicator of technical analysis – Bollinger Bands – indicates that Bitcoin is about to move big. Over the past three weeks, the first cryptocurrency has been trading in the range of $ 50,000 – 60,000, and over time, the channel continues to narrow. The bulls are not showing willingness to lead above $ 60,000, while the bears are failing to push the price below $ 55,000.
Due to a long period of indecision, the width of the Bollinger Bands, used to reflect market volatility, narrowed to 0.15, the lowest in four months. After each decline to this level during the 2017 bull cycle, Bitcoin made a sharp move.
The indicator is calculated by dividing the difference between the Bollinger Bands by the average cryptocurrency price over 20 days. At the same time, the lines themselves are set based on the standard deviation above and below the simple moving average for the same period.
The indicator fell to 0.15 in February, April and October 2017, just before the stages of rapid growth in the exchange rate. A similar narrowing in March, July and September ended with a correction. Thus, the width of the Bollinger Bands serves as an indicator of the upcoming volatility, but cannot suggest the direction.
As noted by CoinDesk analyst Omkar Godbol, a similar situation arose in the bitcoin market in early December during the consolidation below $ 20,000, when the narrowing of the lines to 0.15 was followed by a rapid upward breakout.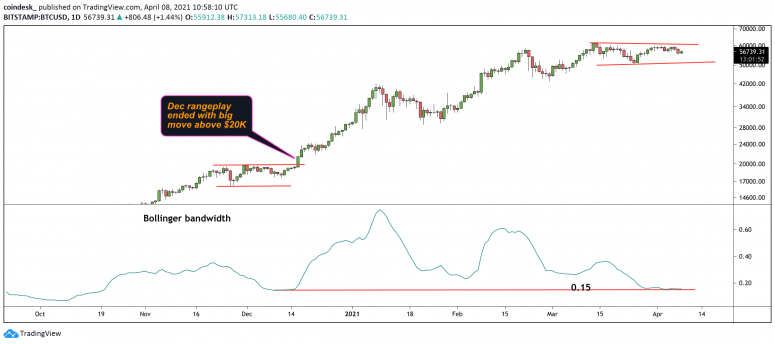 While seasonality indicates that historically April has been a bullish month, some believe that the Bitcoin market has already reached an overheated state by the current stage.
"Those who have been in the crypt for a while may determine that the situation is taking an absolutely awkward turn," writes analyst Alex Kruger.
As justification, he cites the following factors:
Bitcoin rises too easily;

Set the first lower high;

DeFi peaked in February;

NFT peaks;

Old coins are growing;

Idiotic ideas attract millions;

New tokens rise significantly;

Widespread FOMO and fraud;

Very late investors brag about their profits.
At the same time, Kruger himself adheres to a balanced point of view:
"I think there is a possibility that bitcoin has reached its maximum, but it is very small. The macroeconomic picture remains constructive. Listing Coinbase and ETFs ahead. I think we will have higher prices. However, new players who don't know what they are doing themselves will give their money away. There isn't much easy money left for hobbyists. There is still enough easy money for those who know what they are doing. "
Stay in touch! Subscribe to Cryptocurrency.Tech in Telegram.
Discuss current news and events at the Forum